I need to have a thread for all my shit, eventually i will have it all organized with everything i have done like Hussein but right now i just want a thread to post updates and show you guys what i have going on.
so anyways just gonna start throwing some stuff up.
95 855 turbo.
m56h swap
full v70r interior including dash and door panels (from inside the car you wouldnt know its an 850)
Running on Megasquirt MS2extra v3.03r controlling everything including coil on plug.
ill just start posting pictures.
uploading them now, anywaysyyyy....
when i bought it, just painting up the trim
put some black atlantis wheels on it
and lowered it a bit
bought this for 150 bucks =]
megasquirt, lc-1 and xd16, boost, egt, etc....aka standalone shit.
grabbed a 20g from justin
megasquirt time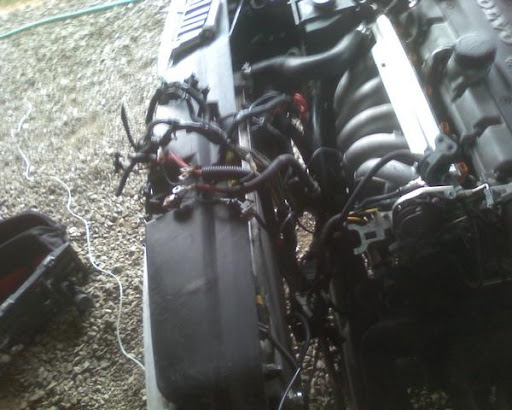 byebye =]
know one else was going big at the time so i started cutting
picked up a front end totaled 00R for 1500 bucks, stripped it for the whole interior and motor, sold off the tranny, turbo, and misc stuff and made back about 900 bucks
the build block
There was a BIGGG gap where i didnt take hardly any pics, so anyways, megasquirt is running good on the distributor then...
coilpacks!
with a bit of a fight i got it running and cleaned up the wiring
Pulled the wiring harnesses out, now that everything is working it is time to ditch all the temperary butt connectors and solder all the wires and clean it up.
reinstalled the cleaned up harnesses (sorry no pics)
did a wire tuck at the same time.
oh and i bought that est intake to clean things up.
covers back on, wiring finished, how the bay looks currently (3-7-10)
All the interior is in, everything is a direct swap as you may know EXCEPT the door panels, you have to use the v70 doors (which i did) and the dash needs a little bit of trimming around the windsheild area, other than that it bolts right up, then you have to deal with the nightmare rewiring all the doors, climate control etc...
just cleaned the carpets and put them back in
all the seats in...
gotta have a harness ;)3pt Schroth. harness bar pretty soon here!
added the dual exhaust bumper, slight modification required, nothing major tho.
picked up a set of aluminum control arms from the junk yard for 20 bucks, gonna have a buddy do some tig welding and strengthen them up a bit before they go on, pics of course when that happens
KnockSenseMS, just a knockbox setup, has an led that flashes when knock is detected, megasquirt will be setup to to pull timing accordingly
got a 3" angled obx dp for free from a buddy, bought a header reducer, and the correct flange for my 20g, used the header reducer to taper the 3" onto the flange.
20g is getting a new neck welded on currently.
Girlfriend is bitching, ill work on this more later.