Disclaimer:
This post is long and is a history of my ownership and work on a P1 car which can be applied to anyone thinking of buying a P1 volvo. Some Volvo's were harmed in the making of this post.
Well then the first decision you have to make is how much of your hard earned money goes to this noble cause. Fortunately there are options, but for this post were going to talk about the most common two.
The first being the easiest and most expensive UP FRONT. Simply purchase a very well maintained car with up to date service, a clean body, and up to date service. These will run you about 7-9k on average with a lot of documentation and service records to back up the price. Most will have timing belts, pcv systems, and tune up parts all ready done. Also the bodies will be in good to great condition and interiors resembling the cleanliness and quality of 1000 count Egyptian cotton sheets. After purchase the only thing that really needs to be done is regular oil changes and to be driven.
I bet by now your thinking to your self that 9k is waaaay to expensive and being the savvy consumer that you are remember that your grandmothers friend has a P1 that she never drives and being partially related that you could grab it for 2k and never have a problem with it because its the uber rare model that runs on unicorn tears and leprechaun jizz. If thats the case I wish to shake your hand because you are in the 1% rarity category. For everyone else 2-3K will buy you a weathered car with little to no service history or records, a body showing its age, a motor with no stage 1 work and the sweet sweet smell of coolant every time the heat is turned on. That is depending wether or not your HVAC is blinking HELLO to you in mores code reminding you its broken......or its feeling festive.
Im sure by now the mechanically inclined will still want to go with the 2k car with the impression that with a little work and time they can get there car to the 9k standard in 1/2 the cost. After all that 3k v70 on the lot down the street runs fine and all it needs is a simple stage 1 and some after-market goodies to make it rock solid. Maybe get some sweet koni yellows and some sways, then throw in an exhaust and you got yourself a M3 killer that can swallow a Christmas tree in its boot.
This is were my V70 comes into play, because I had the same options when looking for a P1. More specifically I was looking for a 1998 V70 T5 MT, the unicorn. So when I found one only 90min away for 3k I though to myself "What a deal!!!". My thinking was that it only needed some work, and being mechanically inclined It could be done on the cheap and ill feel like a King! A King with a 5k wagon that will give me no problems ever. I imagined it being on the same level as an after school special or a really good episode of Full House in which Danny tough Michel a life lesson with some laughs along the way.
So now sit back an enjoy this photo heavy journey into what one might find down the cheap Volvo build path. Or what I like to call:
"Volvo, how I learned to love the box.......on wheels"
The day I bought her, NEVER BUY A CAR I THE RAIN!!! Seriously, it hides a lot of imperfections.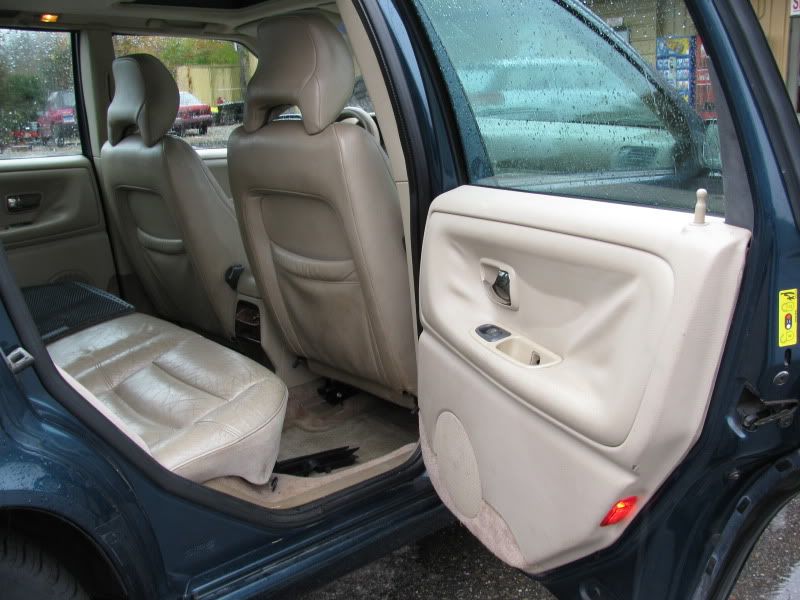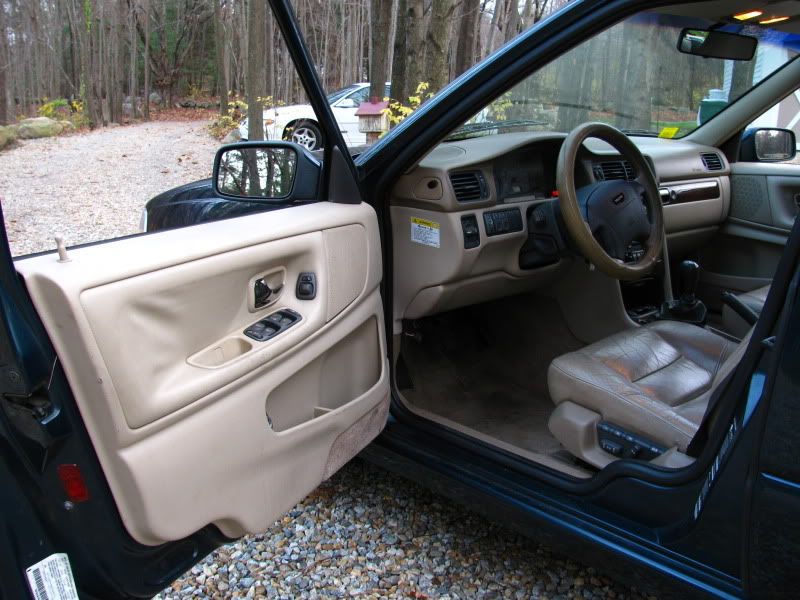 Upon initial inspection I thought it didn't need too much. Stage 1, RMS, and maybe I would swap to charcoal interior. This was exactly a year ago in November, she had 138,589 on the Odo with no service records and four previous owners. But for some reason I just had to have it even after thinking about it for a cupel of days. There was something about a turbo 5sp wagon that just made me giggle like a school boy.
Being that I didn't have a garage to service the RMS problem I was lucky enough to find a rentable unit 30min from my home for $150 a month. What follows is a montage of what might happen when pulling a motor, Id call it a bad case of "Well, while its out I might as well....".
TOOLS!!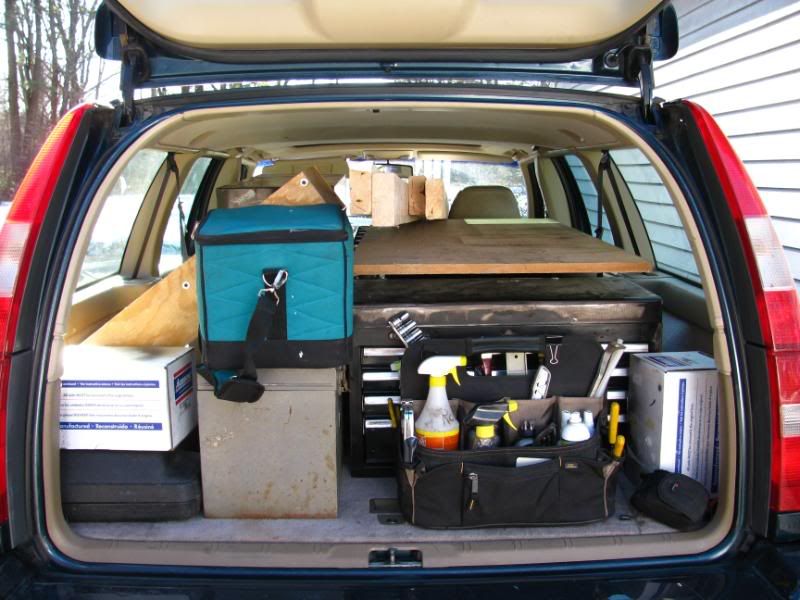 The Space
I didn't notice this until I brought her home, NEVER BUY A CAR IN THE RAIN.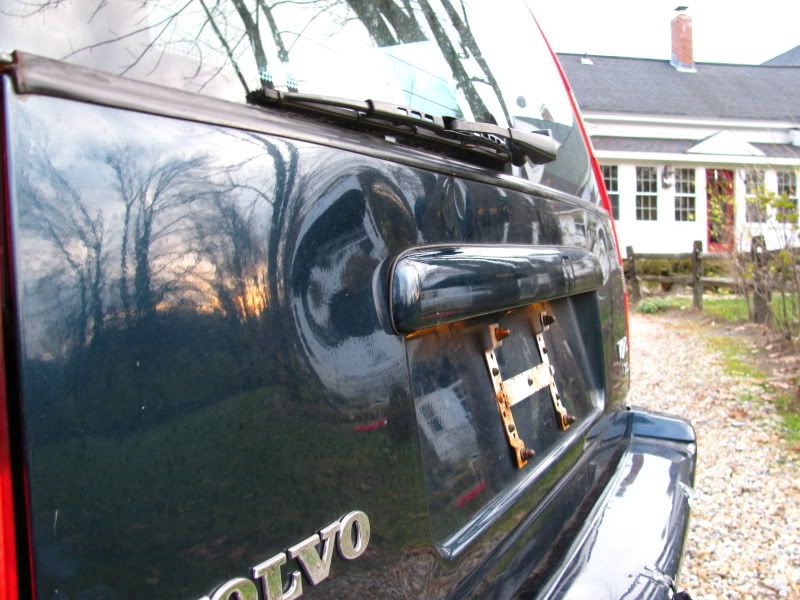 Upon closer inspection It looked like my V70 had the optional chassis lubrication system.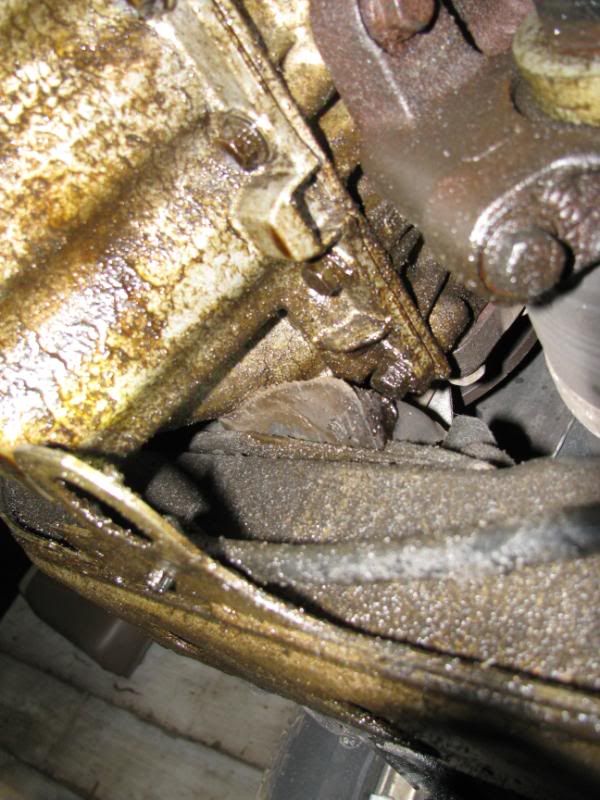 And the Fun Begins...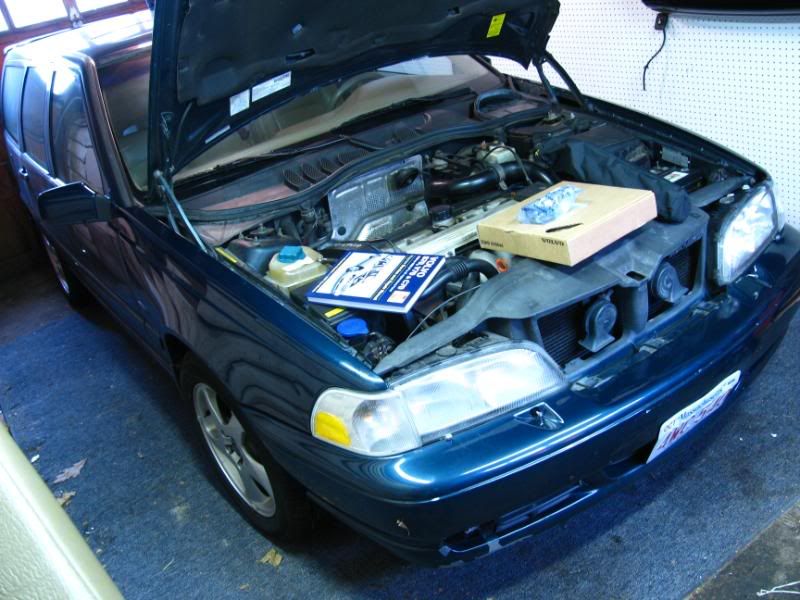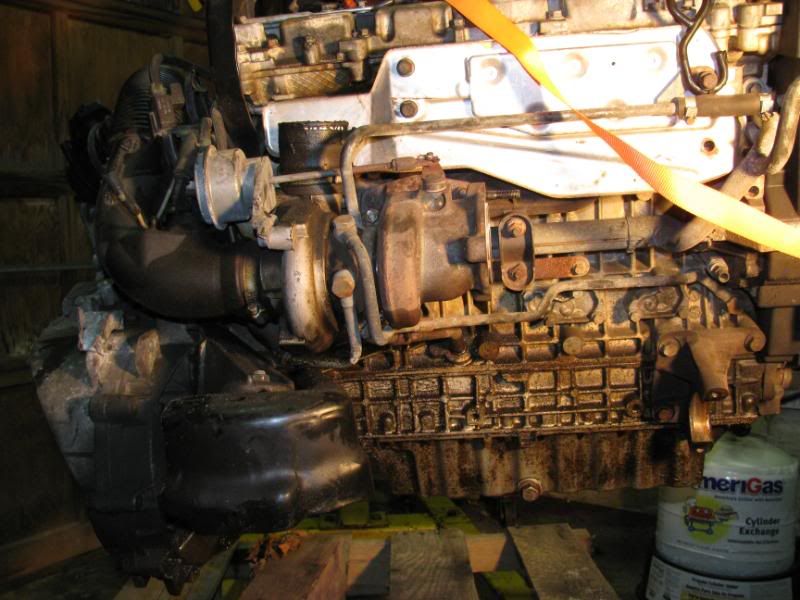 After the pull it became apparent that all of my oil seals had died some time ago, not too bad though being only seals. The upon taking the exhaust mani off I found more good news!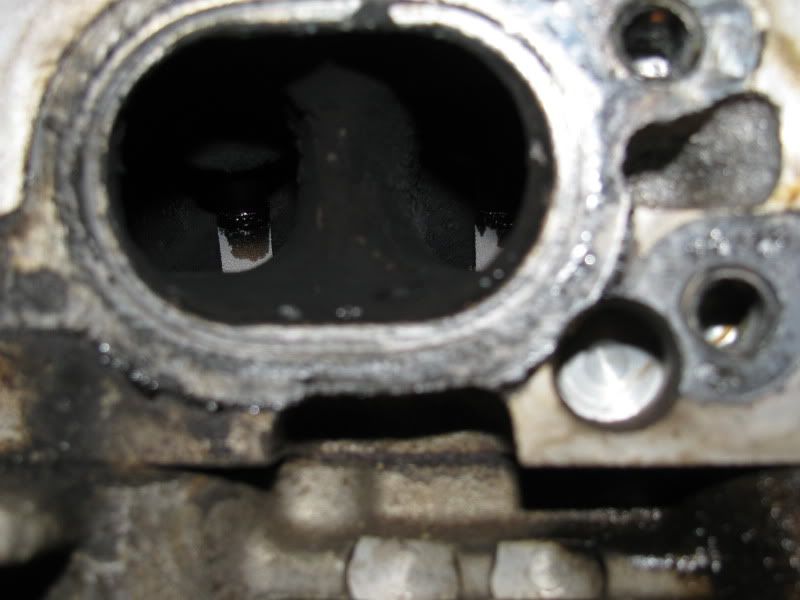 Ok so my valve seals are leaky, just a head rebuild is all it needs.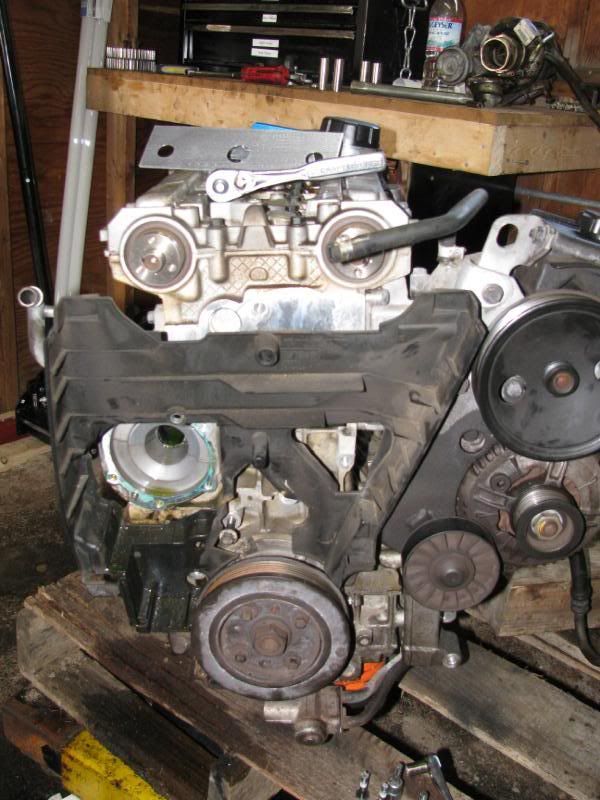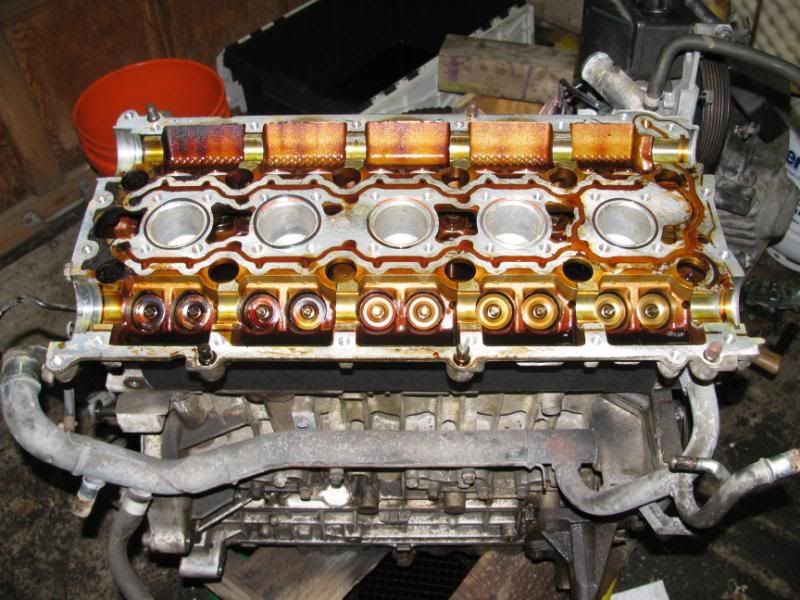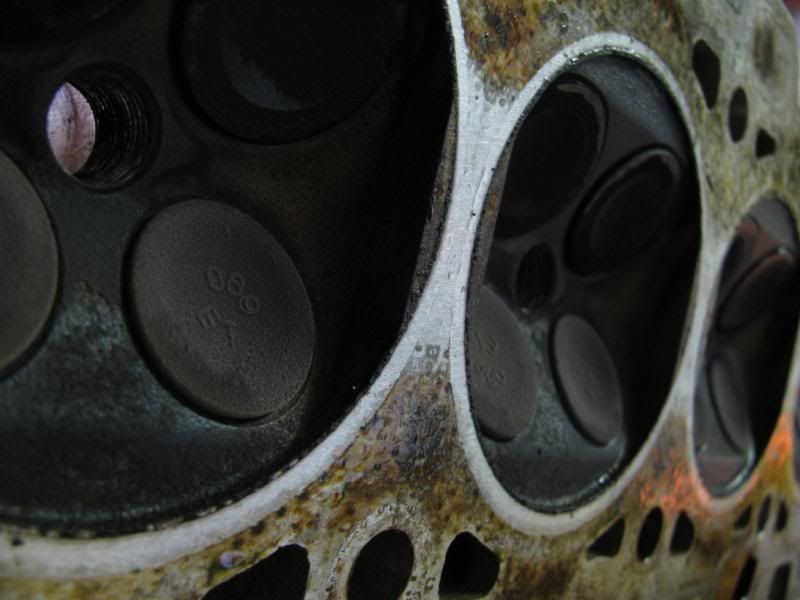 UG, looks like someone didn't change the oil that much. Well might as well get a rebuilt head at this point.
I did however luck out with this, Head bolt #5 was literally holding on by A THREAD and broke in two when I placed it on the table.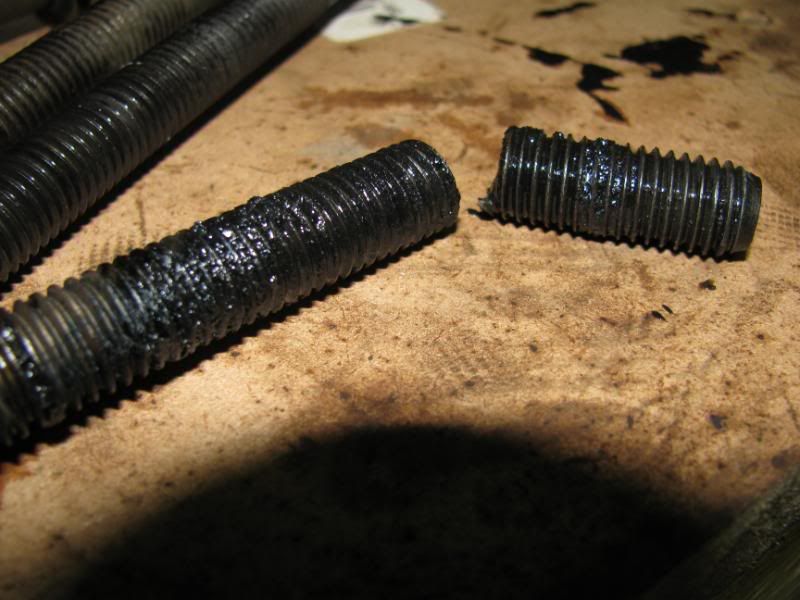 On to cleaning, the before.
Its all in the prep, a lot of shop towels and grease to fill the small holes just incase something were to find its way into the oil passages.
After 5 or so passes using gasket remover, a brass wire brush and razor blade for the larger material this is the mess it causes.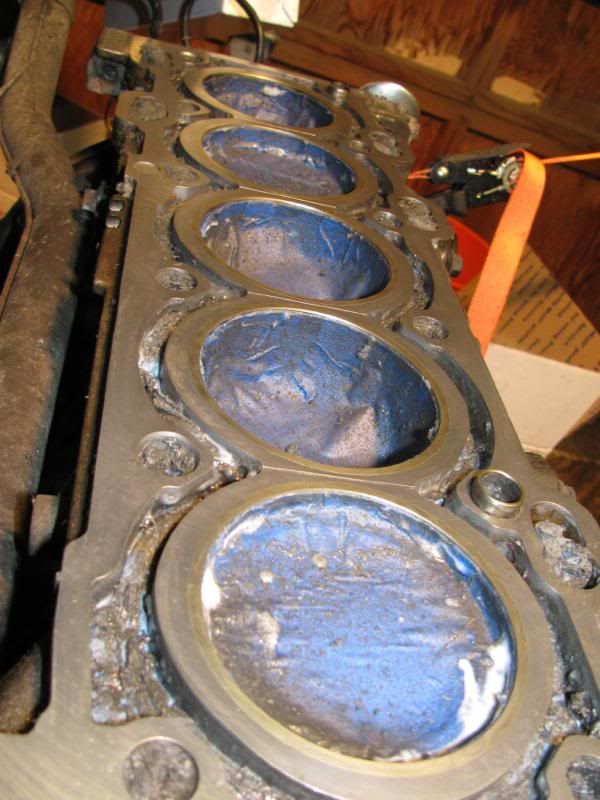 Eventually it took me around 10 rounds of gasket remover/scrubbing to get it clean, about 10 hours total. I used brake cleaner and a variety of artist brushes to clean the pistons, then blew out the shmeg with compressed air. Yes it was a bit anal but look at the results, I could stare at this for hours.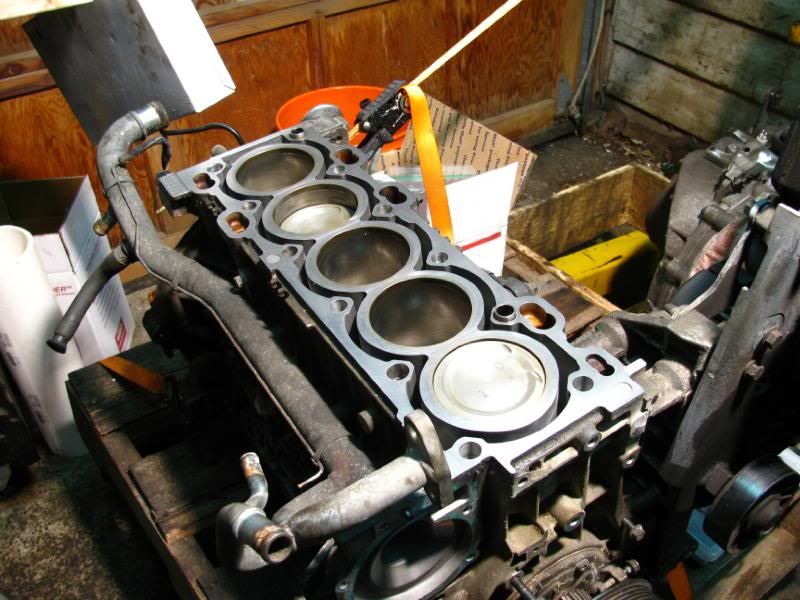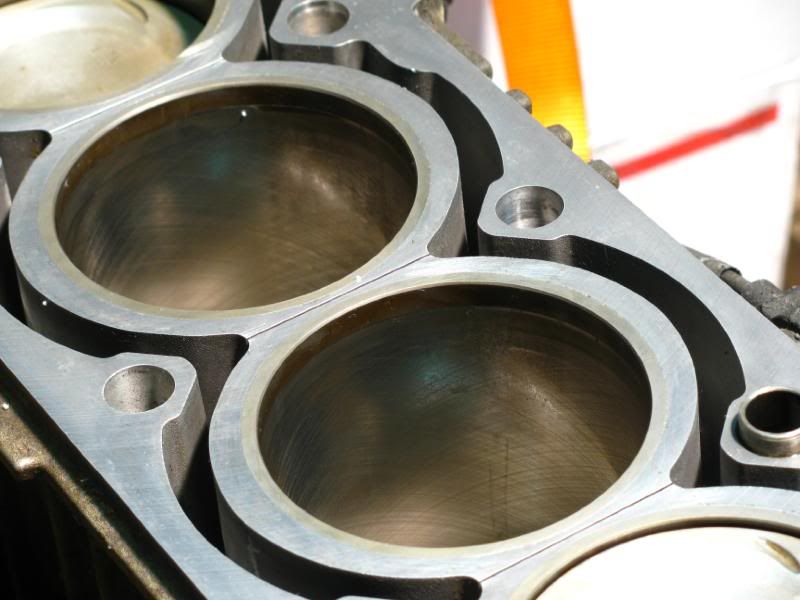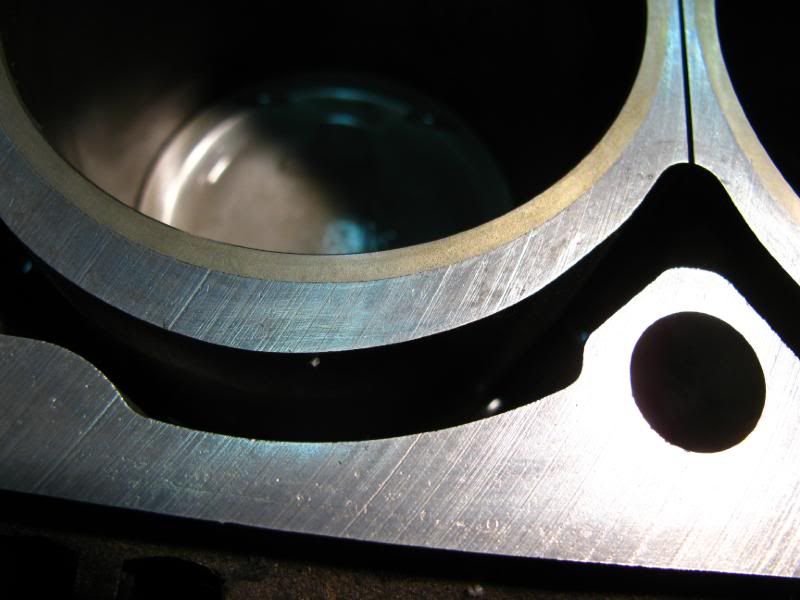 Now it was time to bust this puppy out!!!!!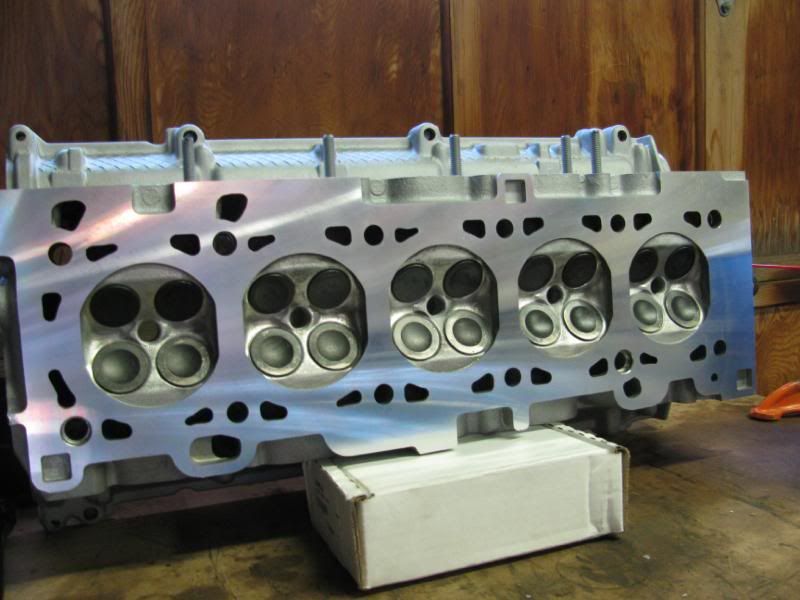 Now that the top end is done, time for the oil pan sump gaskets and RMS replacement.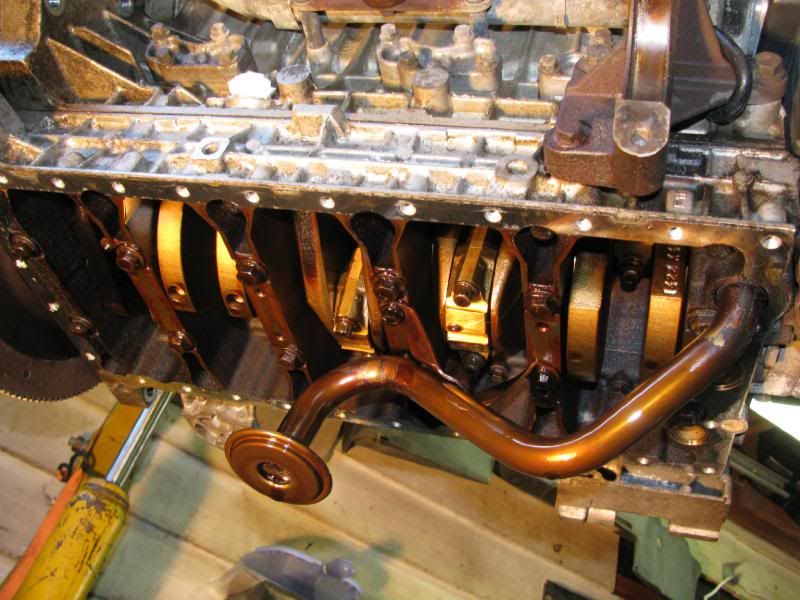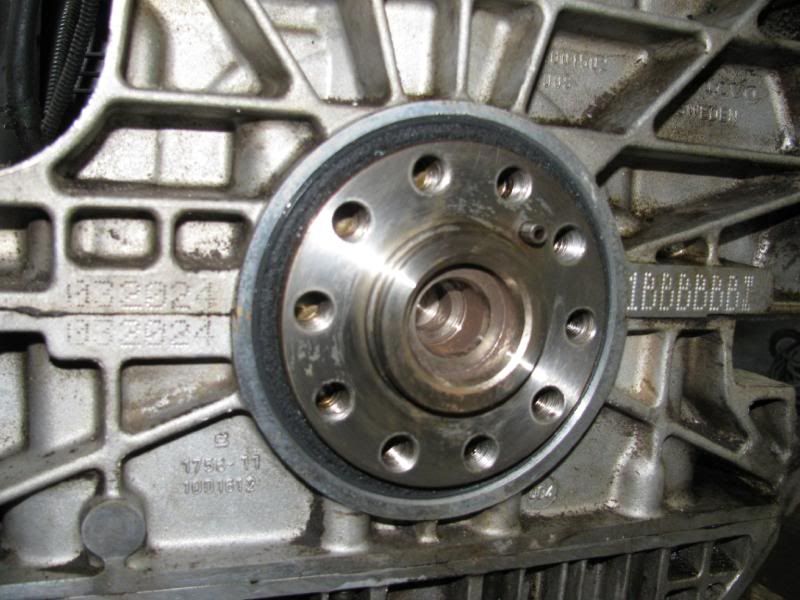 Resurfaced flywheel, 850R clutch and PP.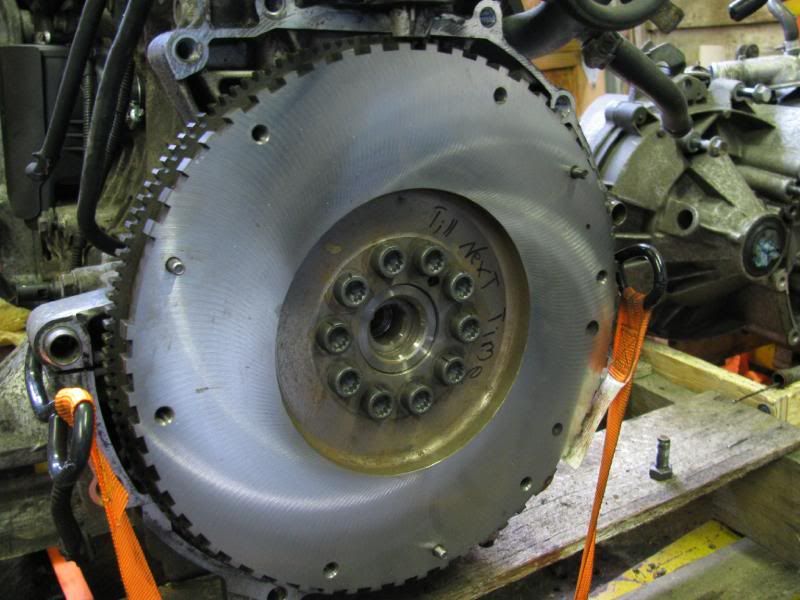 Even the trans housing was smeared in oil, probably great for the clutch.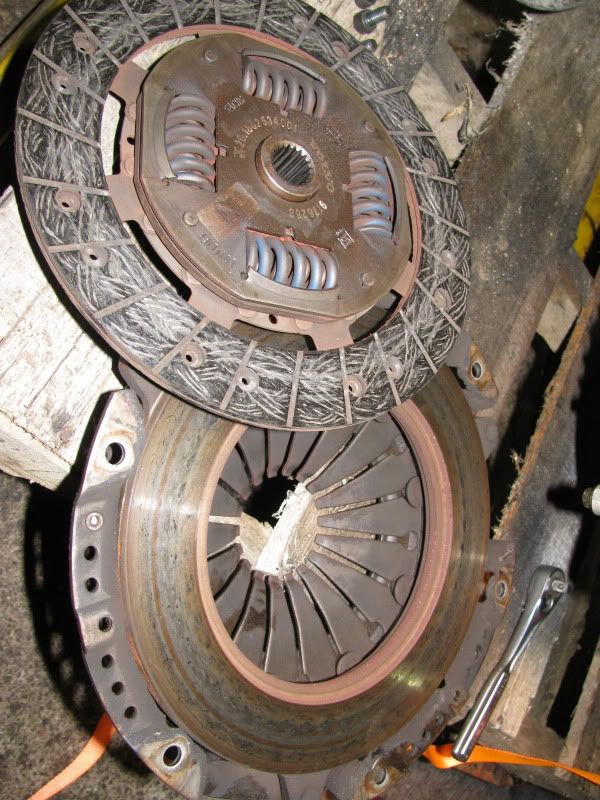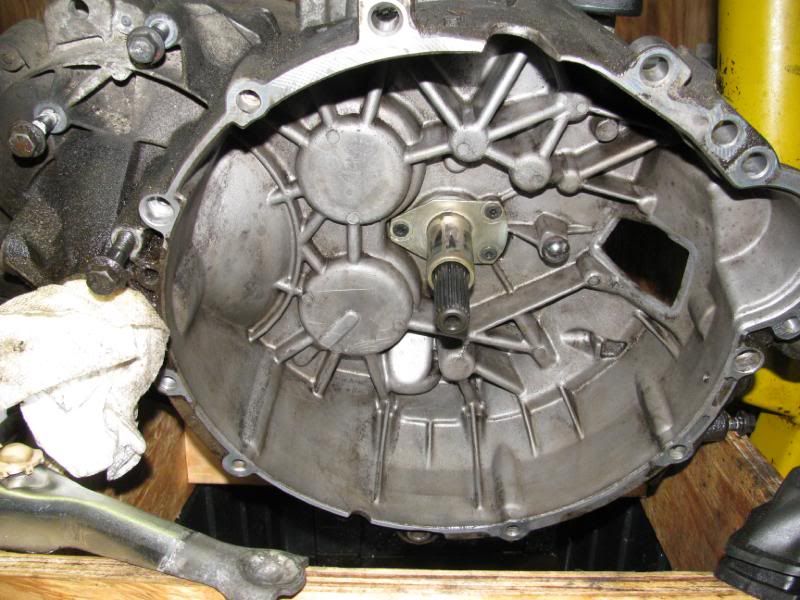 Lightly used replacement turbo of an 04 S60, the oil/coolant feed lines are slightly different but with a pipe bender they can be made to work.
Then back in she goes!!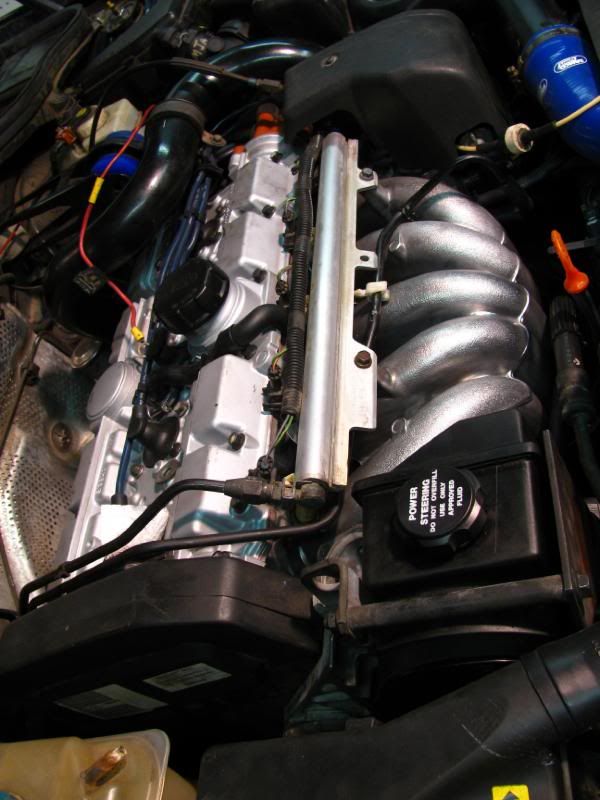 On her maiden voyage the turbo's coolant feed line burst (1 of 2 old lines I reused, yea).
After the shake down tests and some weeks of driving it was time for some other new items to compliment the "new" motor.
Koni yellows on H&R springs with all new fixins to replace the old worn out crap. As well as a slew of new suspension goodies.
The next biggest thing was the tan hell that was the interior. All the seats were trashed and all the door cards were delimitated. I was going to go tan again but I found a pristine black interior out of an 850 in the JY so I decided to go charcoal and get as much usable parts out of the 850. The dash and door cards were sourced out of a number of other 70 series cars in the same yard.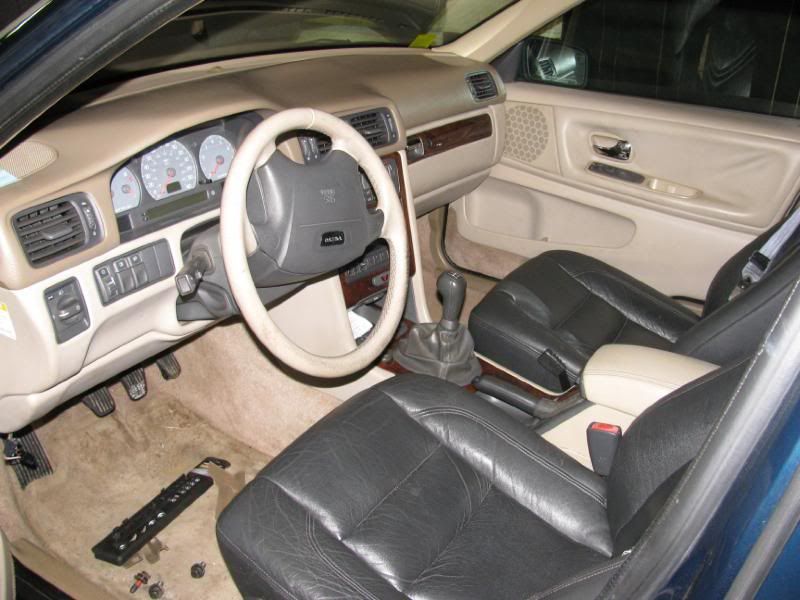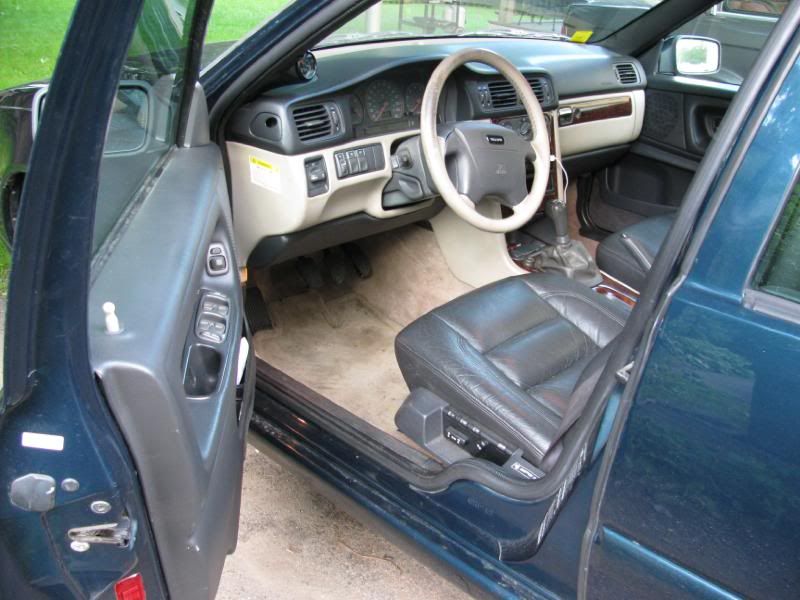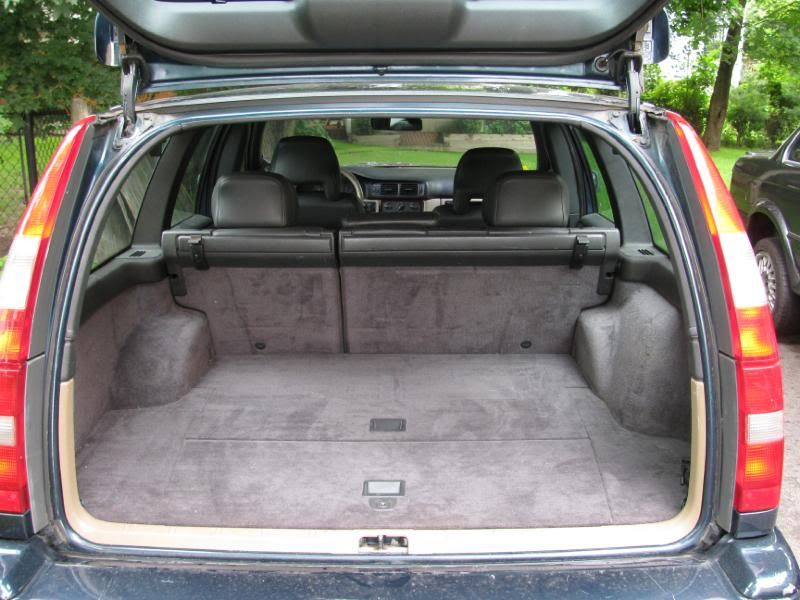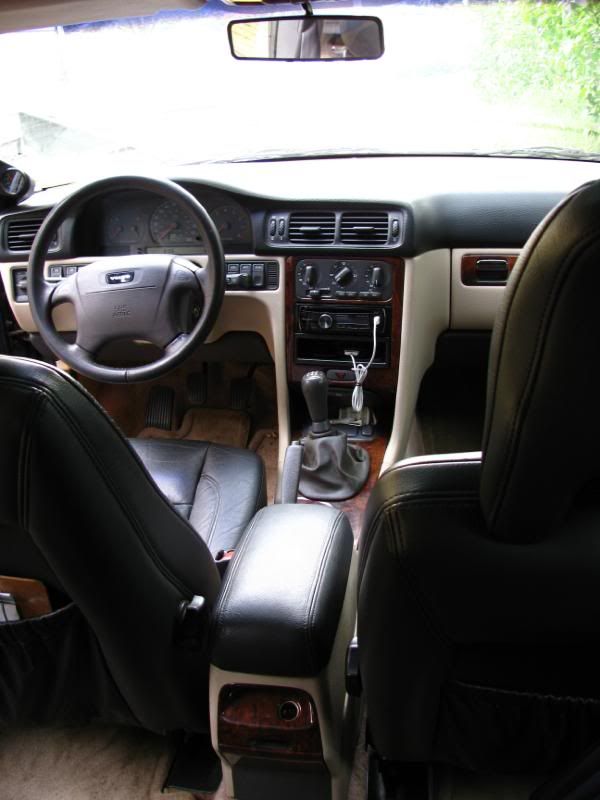 Some various shots of the body. Started with a busted tail gate and stock springs then slowly got the lowering springs on, a JY hatch, new tires and an xc70 roof rack system.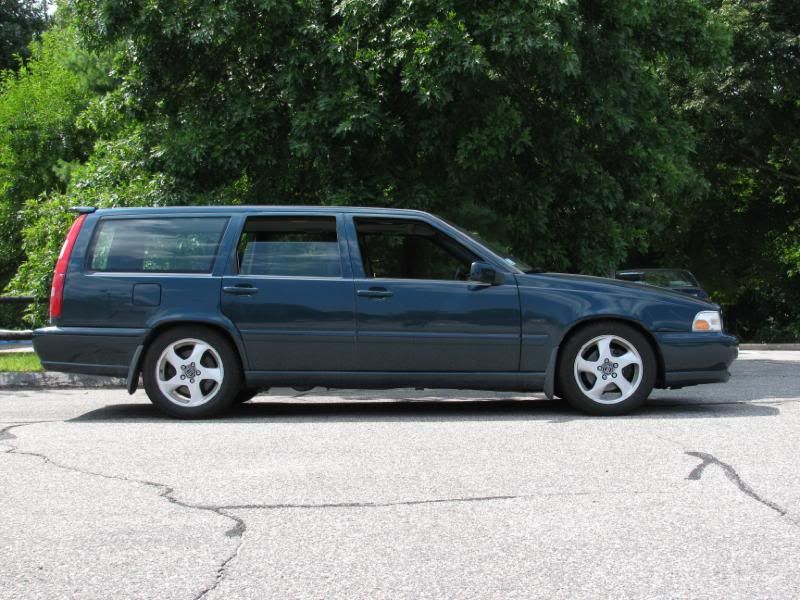 How she sits now, more or less.
The last thing I did was apply some sound deadener to the trunk area and below the rear seats to cut down on the resonance the wagon naturally has. I also applied foam to the back of every plastic panel to stop all the squeaks and rattles. Took for friggin ever but its quiet as a wagon can be without adding another 50lbs of material.
T5 logo
So now after all that pic whoring lets tally up the total of what I spent to get it to this point.
"
Hold on to your buts!"MOTOR:
-Reman head from Clearwater Cylinder Heads
-Resurfaced flywheel
-850R Clutch and PP
-New throw out bearing, slave cylinder
-Lightly used 16G Turbo and exhaust manifold of 04 S60
-Brass shifter bushings
-All new motor and Trans mounts
-Complete PCV system
-Volvo plugs/Wires/Cap,Rotor
-New Bosh MAF
-Air filter
-Fuel Filter
-All new vacuum hoses
-Silicone turbo hoses
-Timing belt/Water pump/pulleys/tensioner
-Serp belt
-Thermostat
-All gaskets and seals replaced, all Volvo OEM and not that after market crap (Oil sump, Turbo drain, Cam seals, RMS, Axle seals, Dip stick, Ext ext)
-All new hardware/bolts for anything that required them (Head,PP,Flywheel, Ext)
-All fluids flushed and replaced (Oil Mobil 1 synthetic 5-30, Coolant Prestone, P.S. Dextron ATF , Trans Red line MTF)
SUSPENSION:
-Ipd sways, front and rear
-H&R springs
-Koni yellows
-Shock mounts, bearings, spring seats
-Sway bar HD end links
-Control arms
-Inner/Outer Tie Rods
-Strut tower bar
-Bridgestone Potenza Pole position's 55-16-115
-2 used wheels to replace a bent and damaged original set
-Replaced axle boots
-New ABS unit
BRAKES:
-Centric rotors all around
-Wagner semi metallics all around
-New brake lines, front
-New e-brake shoes and hardware
-Complete fluid flush and replaced with DOT4
EXHAUST:
-Eurosport Tuning catback.
STERIO:
-Pioneer Deck with USB input
-Pioneer 6 1/2 three way speakers all around
-New battery
-Second skin mass load sound deadener material for trunk
-Second skin closed cell foam for squeaks and rattles
COSMETIC:
-Complete charcoal interior (Might stay black on tan)
-JY Hatch to replace dented original
-JY front/rear bumpers (Not on yet, need to be painted)
-IPD boost gauge and pod
-Replaced all burnt out bulbs in dash
-Fixed rear bumper sag at least
HOURS:
-The motor/trans took a cupple of months to complete since I was working. The rest was done over the corse of this year. If I had to guess probably a solid two to three months of 8hr days of work, all free thank God. Right now the Odo reads 142,000, around 8k since the rebuild.
THE GRAND TOTAL:
As of right now with all the parts listed above and counting the cost of the car (3k) Im up to ...............................
$11500!!!
Yea, that doesn't even factor in the rent for the garage, oils, chemicals, gas to get to garage and other small items it took to get it this far. Not to mention the things that I still need to do to her to get it perfect. Like a full paint job, wheel spacers, sub-frame bushings, all new bushings for the rear delta links, and I need to install the heater core I bought last year that I've been too lazy to do.
I still want more powa too, like a 3"DP and tune$$$$
Overall though, at the end of the day Im driving a car that I made just the way I wanted it from the factory. But I think the best part about going this rout is the knowledge gained from taking your car completely apart and putting it back together again. If the motor blows up, no sweat Ill pick up another for cheap and rebuild that one with more powa this time. Thats probably why I drive the snot out of it without worrying too much about if I might damage anything, plus it amuses me to no end driving a wagon like a sports car. Im sure I speak for the majority when I say third gear pulls are simply orgasmic and the symphony of sounds belched forth from the motor when your in her hard lets you know your not the only one who is being satisfied.
So take what you can from this in making your decision on what condition Volvo you want to buy. Keep in mind this is only one man's story, Im sure there could be a cheap Volvo out there that only needs a small amount of work. Just be prepared to easily spend 2x what you think is needed, parts and problems add up quick especially when talking about a 12 year old European car.