So today I was with Mike (Prezman26) when we noticed a nasty-ALL GLORY TO THE HYPNOTOAD smell coming from my car. At first I thought I ran over some animal and it splattered all over my undercarriage. So I took it to a local Auto-Wash and got the undercarriage cleaned. After getting out of the wash, my car still smelled like crap. Mike said "Open your hood." so i popped the hood and this is what I found...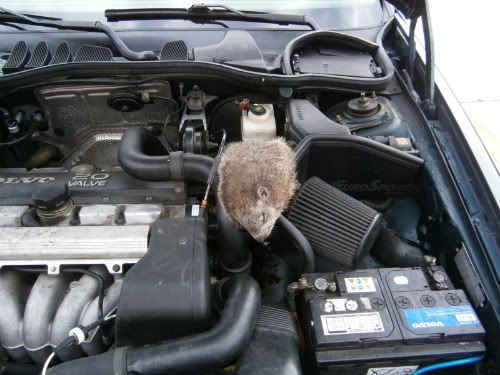 The little bastard must have crawled up there overnight and got stuck, when I left for work this morning he must have baked to death. It wasn't until I left work I noticed the smell.
It took me 3 hours to get everything cleaned up. I had to remove the groundhog from the bay with two garden trowels. When I picked it up all of the intestines and poop fell out of its rear end. My car still smells a little bit buy its NOWHERE near as bad as it was before.